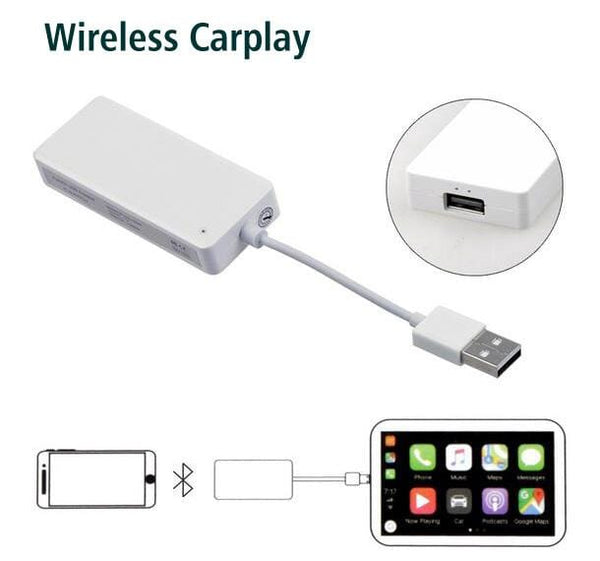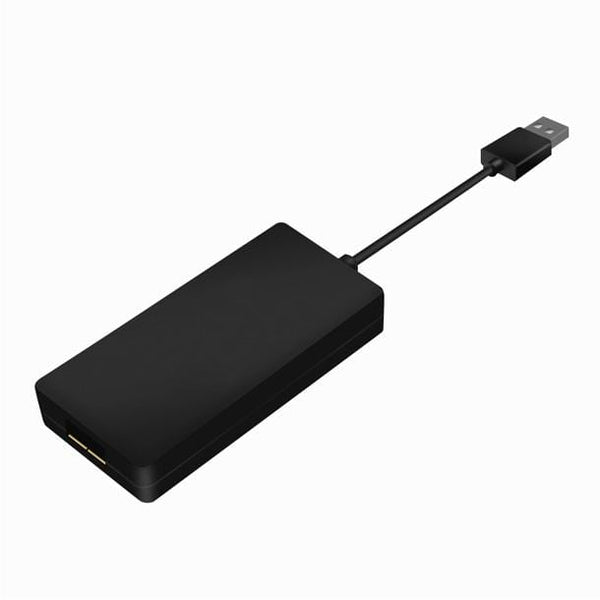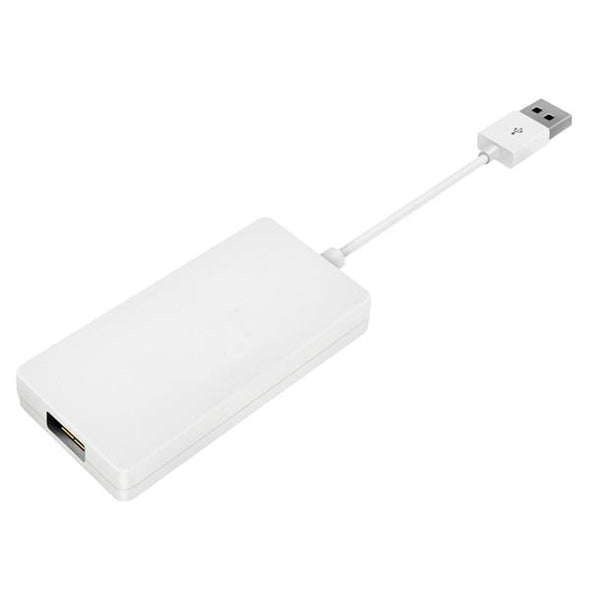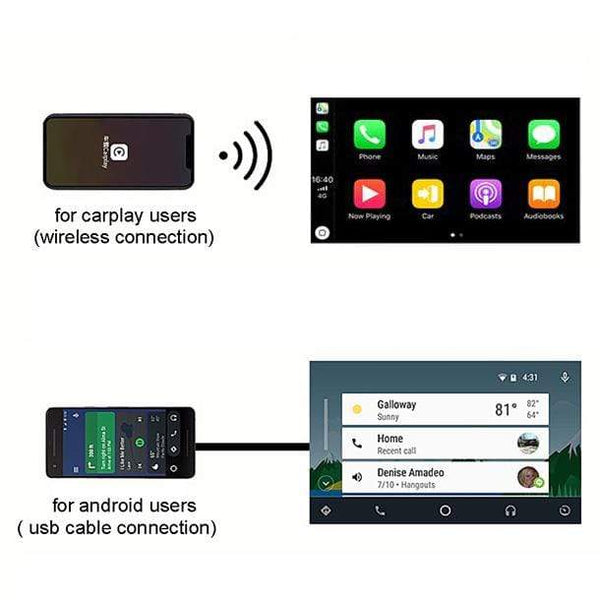 Wireless Apple Carplay dongle aftermarket USB Android Auto Adapter for Android screen
This wireless aftermarket Apple Carplay dongle can work with both iPhone (iOS) (Carplay) and Android phones(Android Auto). For the iPhone, it can be wireless connection -connect via Bluetooth. For an Android phone, it still needs to connect it by USB (wired connection).
Note:

1, This model is for Android OS Car Stereo only, NOT for factory radio head unit, because it needs to install an APP to Car Stereo.

2, The default shipping is by airline or by post (15-20 days delivery). 
if you request to send by DHL (5-6 days delivery), it is an extra USD10.00.
3, This model is a wireless Carplay/Android auto dongle, if you need to be wired Carplay dongle, click [ CP-03 ].


Features
1, Voice Control:
Support Siri/Music/Maps/Phone calls/Messages/Audiobooks.
The Siri function will help you call Route or any one of your friends.
Please notice our device's operating speed is according to your phone's ios speed.


2, Touch screen and HD Display:
(if your car is BMW, it support iDrive to control the Carplay)

Directional control and view your phone on the car navigation screen with a USB cable.
Hands-Free and Safe driving:
Make/answer calls, check voice mails, text messages, and bring up maps.
Listen to your favorite songs using iTunes, Apple Music, or installed apps for hands-free.


3, Compatible Devices:
For iOS mobile phones  ( 9.0 and above)
For Android mobile phones  (5 .1 and above)
For Android car stereo head unit (4.4.2 and above)
(The product supports most Android market phones, but it's not 100% supporting all Android phone and Android auto radio)


4, How to use the product:
1. Install the Apk to the Android head unit.
(The Apps you can download it on this page:
https://hifimaxnavi.com/pages/download
2. Connect the Carplay dongle with Android head unit (via USB)
3. Pair and connect iPhone's Bluetooth with car's Bluetooth (iPhone supports USB cable connection too); Android phones still needs to connect by USB cable.
4. The car's screen will enter the CarPlay interface.


Shipping & Delivery
(1) Shipping cost:
USA, Canada,UK, Singapore, Germany and most western europe countries are FREE shipping. But for some countries, it might have extra shipping cost, you can Add to cart and will see the shipping cost before check out the order.

(2) Delivery time:
DHL / FedEx / UPS: 7-12 days for global delivery.
Special airline: 12-20 days [For EU customers who pay VAT (25$) in advance].
Tax or Duty
The price on this page NOT included the taxes or duties in your country.

USA, Australia:
Usually without tax if the order less than US$800, but we still suggest you to check the import tax policy from your customs.

European countries:
For some european countries below, it can pay the VAT(US$25 only) in advance! click here to read more & add VAT to the cart when place the order.

Germany, France, Italy, Britain, Spain, Netherlands, Belgium, Luxembourg, Austria, Denmark, Finland, Greece, Hungary, Ireland, Poland, Portugal, Slovakia, Czech Republic, Sweden.

Other countries: Recommend to check import tax policy in your side.

Warranty & Returns
 2 years free repair service for android navigation, please click here to read more details on the warranty & return policy.