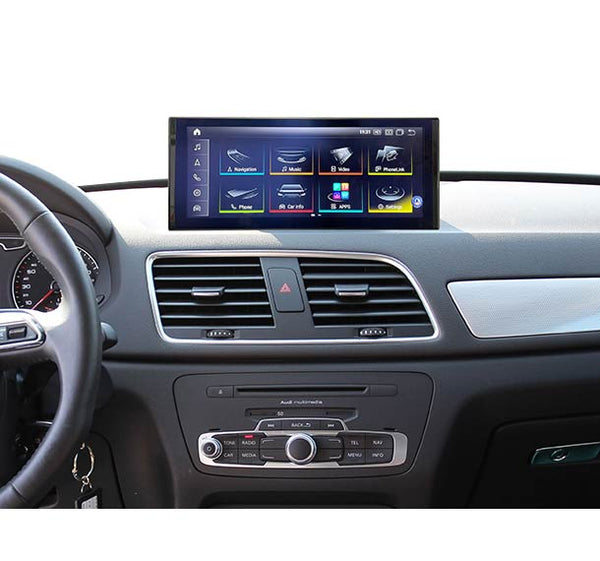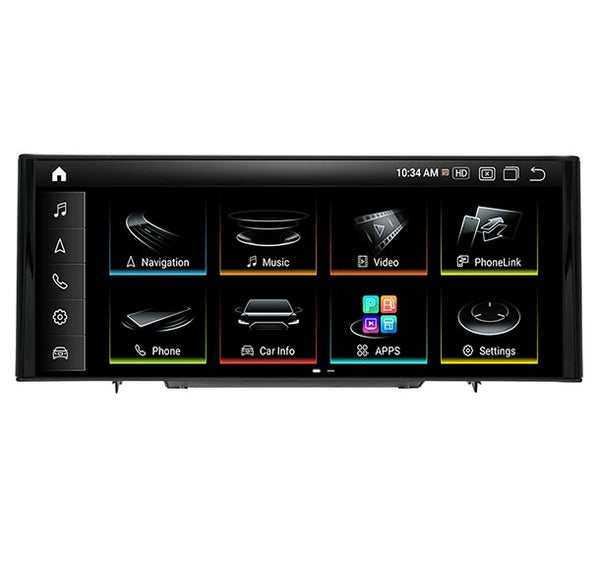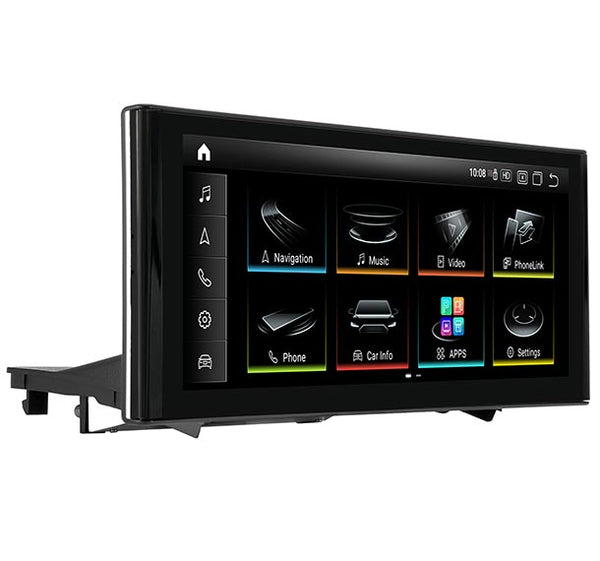 10.25 ''/ 12.3''  Android 13 Navigation for Audi Q3 2013-2018 Apple Carplay & Android Auto

Android 13 OS, Snapdragon 662 chipset, Octa core CPU, HD 1920 x 720P IPS screen, GPS navigation, Bluetooth 5.0, USB/SD, Wi-Fi, support 4G LTE, Touch screen, Apple Carplay & Android Auto, 64GB/128GB/256GB optional, plug and play, keep All original car functions.

Car Compatibility
For Audi Q3 (2013-2018)
(For both left & right hand drive)

Note: For Audi Q3, the car with RMC (182D) is low configuration, the model with 3G+ MMI system is High configuration, they are different, please choose the correct model.
How to check the car compatibility?

1, Send us one photo of your car dashboard (with main menu of display), a photo that can enable to see the whole central console (CD/Radio panel, the gear etc).

2, Check if the car contains AMI or AUX port.
(AUX-In or AMI port - usually they are in the storage box or glove box)






Main features:
Keep Audi radio original functions

It just replaces the original display only, keep your original CD radio in the car, thus it keeps all the factory functions, maintains your original Car Radio and all other functions.   

Support all original functions: Compatible with all factory original functions, including original radio, CD, Car information display, Bluetooth, navigation, steering wheel control, joystick/knob control, parking camera, factory 360 camera, etc. 

Android 13 OS, 64GB/128GB/256GB Optional

Android 13 GPS Navigation with Octa-core CPU, with 64GB/128GB/256GB ROM optional, you can install as much as apps without worrying, enjoy faster startup speeds, quickest response and smoothest user experience. No lags anymore!

Built-in Apple Carplay & Android Auto
A Smart Way to Use Your Phone in the Car
Simply connect your iPhone/Android device to the Android car stereo via Carplay. Use smart voice assistant or touch the display, you can get directions, make calls, send and receive messages, and enjoy music etc. A smarter, safer and more fun way to use your phone in the car, and keep you stay focused, connected and entertained.
The Carplay support both iOS Apple Carplay (wireless) and Android Auto (for Android phone, wired connection).


Built-in GPS Navigation
Support Google map, Waze, iGo, Navitel etc
You can easily by using the online/ offline map or purchasing a map card. It can quickly run all navigation apps like Google Maps, Waze etc. and offer up-to-date roadway information and concise driving directions.

Bluetooth & A2DP (Bluetooth music)

With faster transfer speed, wider coverage and enhanced anti-interference, the Bluetooth wireless technology allow you to stream Spotify and 
Pandora from your phone to enjoy millions of songs you like with a high fidelity quality. And make hands-free calling without noise while driving.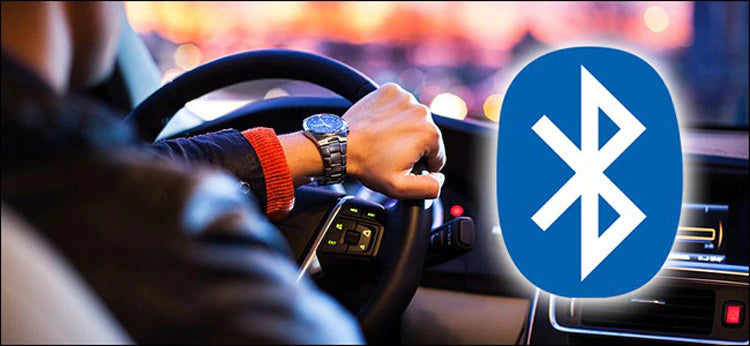 Built-in WiFi & support 4G LTE
The android screen built-in WiFi & and with Wifi antenna, once more, it supports 4G LTE, it contains a SIM Card slot (you have to buy the SIM card and chose internet plan from your local network provider)


Description:

Android 13 system
CPU: Qualcomm snapdragon 662(SM6115)
Octa core [4 * A73 (2.0Ghz) + 4 * A53 (1.8Ghz)]
Adreno™ 610 GPU(950Mhz), Samsung 11nm
Storage using EMCP chip, included eMMC 5.1 & LPDDR4x eMMC 5.1
RAM: 4GB/8GB RAM optional
ROM: 64GB/128GB/256GB ROM Optional
Bluetooth 5.0
Latest AUDI system interface
10.25 inch or 12.3 inch Anti-reflection screen, touch screen.
(

Note: Anti-glare Blue-Ray display need to add USD35 extra

)

HD 1920 x 720 screen resolution
Excellent sound effect with Build in ultra 1GHz High speed floating-point DSP digital processor with DRC.
Keep All original Audi radio system
Built in Wireless Apple CarPlay + Android Auto

Support original knob and steering wheel control
Built in GPS, support Google maps, Waze, iGo etc, external GPS antenna included
Built-in WiFi and support Mirrorlink function
2 USB, 1 TF card slot
1 SIM card slot (for 4G LTE)
FAST charging USB, support SIM card
Built in parking guideline, support both original and aftermarket backup camera
Support AHD high definition backup view system
(Backup camera is optional - extra cost)
Support original car information displaying, such as speed, oil, etc
Built in MIC (Support External MIC input), support handfree / bluetooth phone calls, phone book and Bluetooth music.
Plug & Play installation.
Accessories:



(1) Power cable: 1 harness
(2) GPS antenna: 1 pcs
(3) LVDS cable: 1 pcs
(4) WiFi antenna : 1 pcs
(5) RCA cable: 1 pcs
(6) Bracket: 1 pcs



 
Optional kits (Extra cost):
1, Carplay Dongle
2, Rear View Camera
3, DVR dashcam



Shipping & Delivery
(1) Shipping cost:
USA, Canada,UK, Singapore, Germany and most western europe countries are FREE shipping. But for some countries, it might have extra shipping cost, you can Add to cart and will see the shipping cost before check out the order.

(2) Delivery time:
DHL / FedEx / UPS: 7-12 days for global delivery.
Special airline: 12-20 days [For EU customers who pay VAT (25$) in advance].
Tax or Duty
The price on this page NOT included the taxes or duties in your country.

USA, Australia:
Usually without tax if the order less than US$800, but we still suggest you to check the import tax policy from your customs.

European countries:
For some european countries below, it can pay the VAT(US$25 only) in advance! click here to read more & add VAT to the cart when place the order.

Germany, France, Italy, Britain, Spain, Netherlands, Belgium, Luxembourg, Austria, Denmark, Finland, Greece, Hungary, Ireland, Poland, Portugal, Slovakia, Czech Republic, Sweden.

Other countries: Recommend to check import tax policy in your side.

Warranty & Returns
 2 years free repair service for android navigation, please click here to read more details on the warranty & return policy.