10.25'' /12.3'' Android 10 Navigation GPS screen for Mercedes Benz C class W204/S204 (2008-2010)
[X302]
Android 10 OS, 4GB RAM+64GB ROM & HD 1920*720 IPS screen (Optional), support WiFi+4G LTE, support Apple Carplay & Android Auto!


Tips: This model with different configuration & options , please read below description before order.


Car Compatibility
For Mercedes Benz C class W204 / S204 2008-2010 , NTG 4.0
Check car compatibility before order, below is the guidance:

1, Check original NTG version : NTG4.0 
Send us the photo (info@hifimax.net) if you are not sure what NTG version in your car.

Note: If the car made in 2011-2014 with NTG 4.5 ( as below), you should order other model: [X312] (LHD) or [X322] (RHD)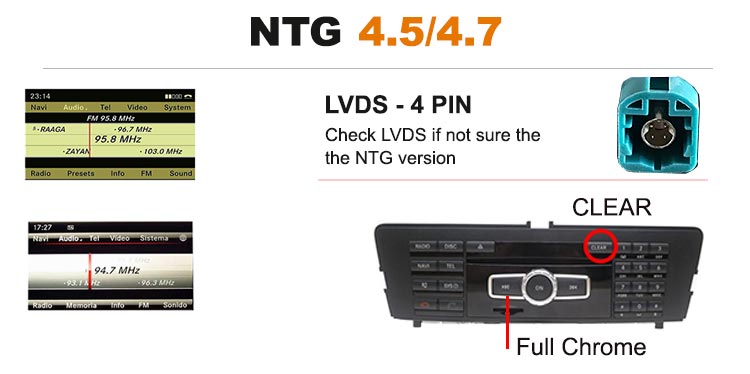 2, Check if the car is with AUX/AMI port
(AUX-In or AMI port - normally they are in the storage box or glove box)





Main features:
Keep Mercedes Benz Original functions

It just replace the original display only, keep your original CD radio in the car, thus it keep all the factory functions, maintain your original Car Radio and all other functions.   

Support all original functions: Compatible with all factory original functions, including original radio, CD, Car information display, bluetooth, navigation, steering wheel control, joystick/knob control, parking camera, factory 360 camera, etc. 


Android 10 OS, 4GB RAM +64GB ROM!
Android 10 GPS Navigation with Qualcomm Snapdragon 625 Octa-core CPU,
4GB RAM + 64GB ROM, you can install as much as apps without worrying, enjoy faster startup speeds, quickest response and smoothest user experience. No lags anymore!

Apple Carplay - A Smart Way to Use Your Phone in the Car
Simply connect your iPhone/Android device to the Android car stereo via Carplay. Use smart voice assistant or touch the display, you can get directions, make calls, send and receive messages, and enjoy music etc. A smarter, safer and more fun way to use your phone in the car, and keep you stay focused, connected and entertained.
Note: Built-in Carplay is optional or External USB carplay dongle is optional(extra cost).

The carplay support both iOS Apple Carplay (wireless) and Android Auto (for Android phone, wired connection).


Built-in GPS Navigation
Support Goolge map, Waze, iGo, Navitel etc
You can easily by using the online/ offline map or purchasing a map card. It can quickly run all navigation apps like Google Maps, Waze etc. and offer up-to-date roadway information and concise driving directions.

Bluetooth & A2DP
With faster transfer speed, wider coverage and enhanced anti-interference, the Bluetooth wireless technology allow you to stream Spotify and 
Pandora from your phone to enjoy millions of songs you like with a high fidelity quality. And make hands-free calling without noise while driving.

Built-in WiFi & support 4G LTE
The android screen built-in WiFi & and with Wifi antenna, once more, it support 4G LTE, it contains a SIM Card slot (you have to buy the SIM card and chose internet plan from your local network provider)

Choose your favourite models:

We recommend X63 , X83 or X73 series (4GB RAM 64GB ROM), and highly recommend HD 1920*720 screen. The X73 series is 12.3 inch screen.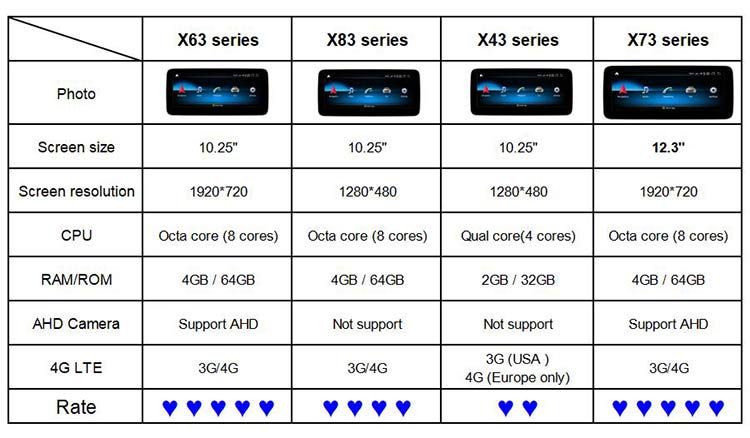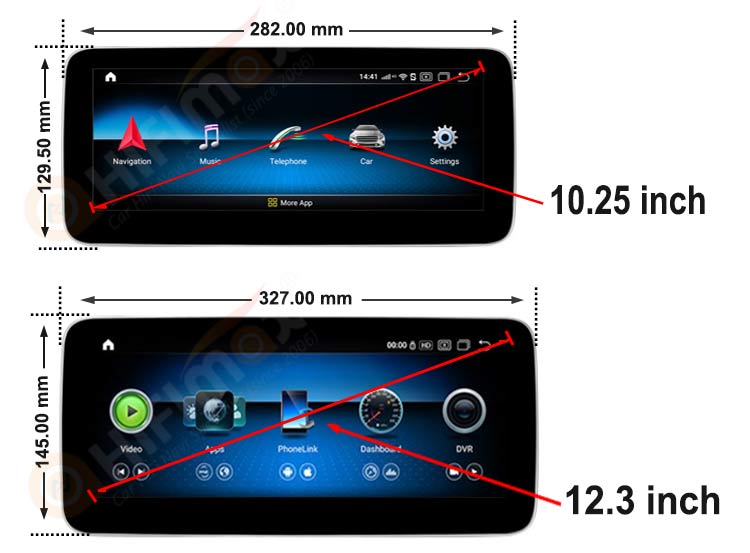 Description:

Tips: Below is the description for X63 / X73 / X83 series (4GB RAM + 64GB ROM, Octa core CPU). For X43 series, it is Android 10, Qualcomm Snapdragon 425 (8917), 2GB RAM/ 32GB ROM, with Qual core (4 cores) CPU, the X43 also support 4G LTE, but it is just for European / Aisa country only, for USA or America, it just support 3G network only.

Android 10
● Qualcomm snapdragon 625 (MSM8953)
● Octa cores: 64-bit A53, the main frequency reaches 2.0G, 14nmLPP process.
● 4G Ram +64G Flash
● Built-in microphone
● GPU: GPU uses Adreno 506 to support 4K Ultra HD H.264 (AVC) 30FPS decoding playback
● Capacitive touch screen, 10.25 inch
● Resolution: 1280 * 480 & HD 1920*720 optional
● 2 USB, 1 TF card, 1 SIM card
● Built-in high sensitivity GPS
● Bulit-in WIFI, support 3D map
● Support Multi Touch
● Built-in Canbus, support iDrive
● Support steering wheel control
● Support original car information
● GPS sound is output from the left front speaker
● Compatible with the original screen 5.8/ 7 / 8/10.25 inches
● Compatible with/without optical fiber
● Compatible original navigation
● Support all original features
● Support original radio
● Built-in Bluetooth, support original Bluetooth
● Support joytick-control under the Android menu
● Support joytick-control under the original menu
● Support original / aftermarket camera
● Support parking trajectory / radar
● Automatic support for AUX Switch - Some car types are manually switched
● Support split screen function
● Built-in night screen function to enhance visual effects
● Support voice control
● CPU built-in Hexagon 546 DSP sound quality is further improved
● using X9 LTE ​​modem, support full Netcom 4G network: LTE Category 7 (downstream) / 13 (upstream)
● support 3 major satellite systems: GPS / Beidou / Glonass, high sensitivity!
● support dual-band 2.4G and 5G WIFI, make full use of high-end mobile phones supporting 5G hotspots
● SD card uses SD3.0, the largest 128GB
● support common video formats: MP4, AVI, MKV, WMV, MOV, FLV and other common video formats
● Support common audio formats: MP3, WMA, AAC, FLAC, APE, WAV and other common audio formats!
Accessories:

(1) Power cable: 1 harness
(2) GPS antenna: 1 pcs
(3) LVDS cable: 1 pcs
(4) WiFi antenna : 1 pcs
(5) RCA cable: 1 pcs
(6) Bracket : 1 pcs



 
Optional kits (Extra cost):
1, Carplay Dongle
2, Rear View Camera
3, DVR dash cam



Shipping & Delivery
(1) Shipping cost:
USA, Canada,UK, Singapore, Germany and most western europe countries are FREE shipping. But for some countries, it might have extra shipping cost, you can Add to cart and will see the shipping cost before check out the order.

(2) Delivery time:
DHL / FedEx / UPS: 7-12 days for global delivery.
Special airline: 12-20 days [For EU customers who pay VAT (25$) in advance].
Tax or Duty
The price on this page NOT included the taxes or duties in your country.

USA, Australia:
Usually without tax if the order less than US$800, but we still suggest you to check the import tax policy from your customs.

European countries:
For some european countries below, it can pay the VAT(US$25 only) in advance! click here to read more & add VAT to the cart when place the order.

Germany, France, Italy, Britain, Spain, Netherlands, Belgium, Luxembourg, Austria, Denmark, Finland, Greece, Hungary, Ireland, Poland, Portugal, Slovakia, Czech Republic, Sweden.

Other countries: Recommend to check import tax policy in your side.

Warranty & Returns
 2 years free repair service for android navigation, please click here to read more details on the warranty & return policy.