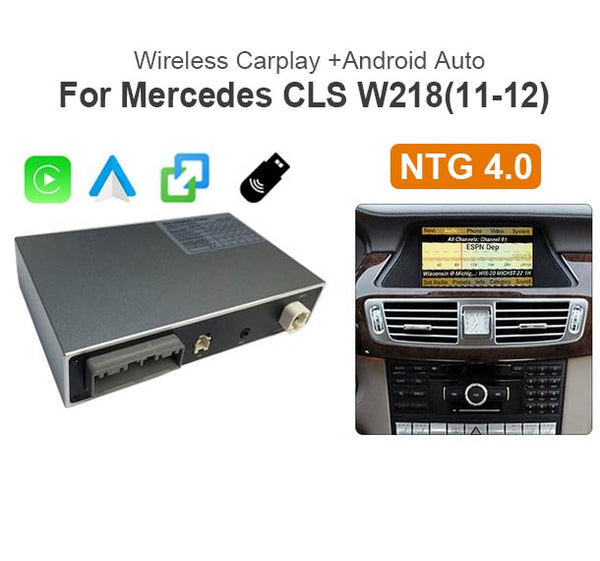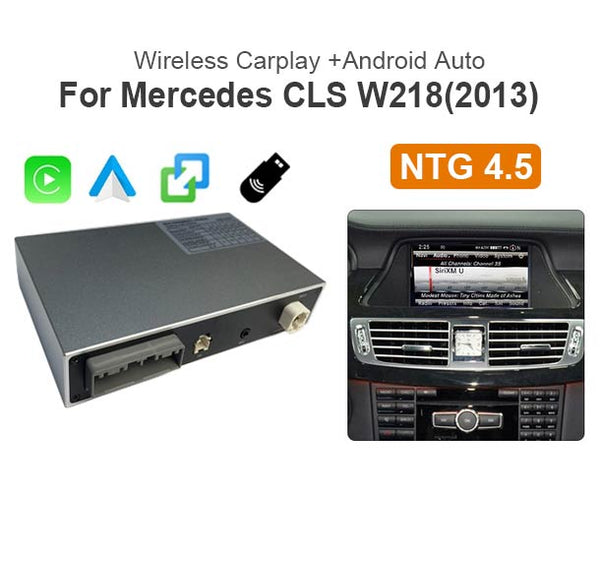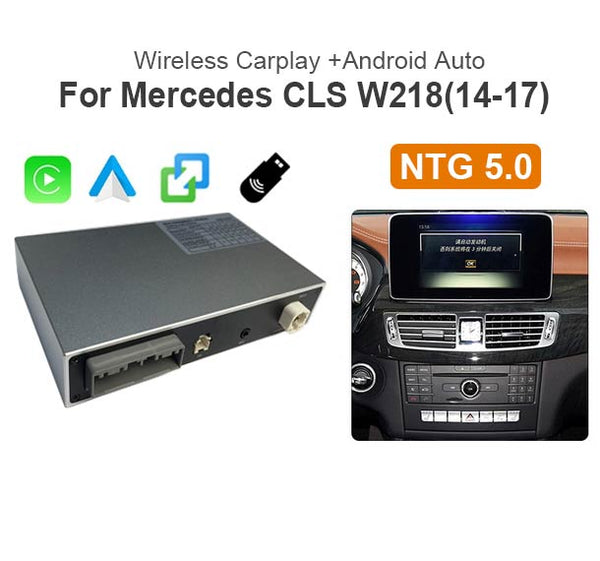 Mercedes-Benz CLS W218 2011-2017 Wireless Apple Carplay Android Auto Upgrade Retrofit

This aftermarket Apple Carplay /Android Auto module is specially designed for Mercedes-Benz original screen, after installing this module, you will have Apple Carplay & Android Auto, Mirror link & other functions.

It is plug and play, no need to code / program the car, keep the original Mercedes Benz display & radio head unit in the car, thus, all original car functions will continue to work as before.

Car compatibility
For Mercedes Benz CLS W218(2011-2012) NTG 4.0

For Mercedes Benz CLS W218(2013) NTG 4.5
For Mercedes Benz CLS W218(2014-2017) NTG 5.0
How to identify the Mercedes Benz NTG version? Check below steps.

1, Check the main interface on the display.

2, Check the radio/ CD front panel & buttons


3, Check the LVDS  (Video connector which connect from the radio head unit to it's display)



Features:
Support Wireless/ Wired Apple Carplay (iOS iPhone)
Support Wireless/Wired Android Auto (Android Phone)
Support iPhone/Android phone mirror link
Support aftermarket rear-view camera (optional)
Support original backup camera & parking sensor
Support factory knob control and steering wheel
Support Siri(voice control )
1 x TF card slot (For music/video input)
Plug and play installation, no need to cut the wires, no modification, no coding / programing the car, just plug and play
Compatible with Mercedes Benz original display 
Compatible with OEM Mercedes Benz 5.8'' , 7'', 8.4'' original display, support steering wheel controls, NTG system & Parking system
Wired / Wireless Apple Carplay
For Apple CarPlay, you can choose a wired or wireless connection.
Support Siri (Voice Controls)
Just simply press the button in the steering wheel for 3 seconds, it will active the Siri function.
Apple Carplay Navigation / Phone calls

Enjoy Music, Message, Hand Free Phone calls
Support Android Auto (Android Phone)

For Android phone, that is Android Auto, support Navigation, phone calls, music, etc.
Tips: Some Android phone might not support wireless connection, in this case, it is just wired connection, please refer to the Google website and check if your phone is on the wireless Android Auto application list.


Support Mirror-link function


Support Backup camera


Support multi Apps

Shipping & Delivery
(1) Shipping cost:
USA, Canada,UK, Singapore, Germany and most western europe countries are FREE shipping. But for some countries, it might have extra shipping cost, you can Add to cart and will see the shipping cost before check out the order.

(2) Delivery time:
DHL / FedEx / UPS: 7-12 days for global delivery.
Special airline: 12-20 days [For EU customers who pay VAT (25$) in advance].
Tax or Duty
The price on this page NOT included the taxes or duties in your country.

USA, Australia:
Usually without tax if the order less than US$800, but we still suggest you to check the import tax policy from your customs.

European countries:
For some european countries below, it can pay the VAT(US$25 only) in advance! click here to read more & add VAT to the cart when place the order.

Germany, France, Italy, Britain, Spain, Netherlands, Belgium, Luxembourg, Austria, Denmark, Finland, Greece, Hungary, Ireland, Poland, Portugal, Slovakia, Czech Republic, Sweden.

Other countries: Recommend to check import tax policy in your side.

Warranty & Returns
 2 years free repair service for android navigation, please click here to read more details on the warranty & return policy.